There are times when you want to keep a tree in place, but have no other choice but to have it removed.
The tree could be dangerous or even just a nuisance. Regardless of why you want to remove a tree, it's important to take the right steps in doing so.
Florida Tree & Ground Maintenance Does Tree Removal Right! Start to Finish.

We make it look clean and professional. We use modern equipment to facilitate safe and clean removals. We use Bluetooth communication to discuss the removal process and have clear communication with crane and ground support. We also have access to a variety of equipment to make your tree removal project perfect: crane, skid steer, spider lift, bucket truck, loaders, stump grinders, and more.
Here are a few other reasons to consider removing a tree include:
It's dead or in the process of dying
It's too close to a home or other structure
It's dangerous to its surroundings
It's no longer a desirable part of the landscape
Don't Risk Cutting a Tree Down Yourself
It sounds easy enough to remove a tree – especially a small one – until you find yourself in the middle of the project.
Not only do you have to remove the tree itself, but you must also find a place to dispose of it. And that doesn't even take into consideration the stump that's left behind.
Take our word and 20+ years of experience, its almost always more difficult than it sounds. When you add this to potential dangers, such as the tree falling on you or a nearby structure, it's best to consult with Florida Tree and Ground Maintenance.
How Can We Help?
Planning, possible permitting and good communication are need to successfully remove a tree. It's our goal to provide high quality service from start to finish, which includes: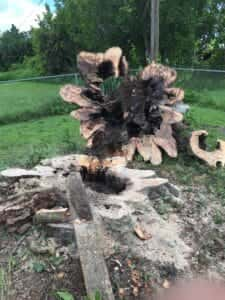 Assessing the tree to determine the best method of removal
Securing the job site to prevent accident and damage
Safely removing the tree
Hauling leftover debris from the job site
Removing the stump or grinding the stump down
At Florida Tree & Ground Maintenance Inc., we have been removing trees in the local area for nearly 20 years.
Request an estimate and we will visit your property to provide a free consultation. From there, we'll tackle the job and back up the results with our 100% percent guarantee.
Free Tree Removal Consultation
Enjoy a free consultation on your stump grinding and tree removal needs from Florida Tree & Ground Maintenance backed by our 100 percent guarantee. Don't just take our word for how good our services are, read what your neighbors are saying!
---