We offer a 24 hour emergency tree removal service to Charlotte and Sarasota County FL.
Living in Florida, we are susceptible to things like high winds and lightning storms. When big storms hit, sometimes trees fall over or suffer different kinds of damage.
Hazardous Tree Removal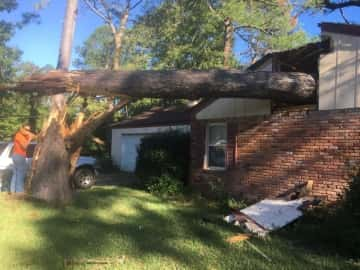 You should deal with tree damage immediately, leaving it untreated can lead to other issues which is something you don't need. Don't hesitate to contact Florida Tree & Ground at anytime, that is why we offer this 24 hour emergency tree service.
How to Prevent Tree Damage
Cabling and Bracing
Tree Trimming
Tree Pruning
We offer those services in order to prevent needing our 24 hour emergency tree service. We advise you to call us ahead of time to schedule an appointment so that you can prevent any unwanted damage to your property. We want to save you from unwanted stress.
If our 24 hour emergency tree service is necessary, we offer it to Sarasota and Charlotte County FL, cities including Punta Gorda, Port Charlotte, North Port, Sarasota, Englewood, and Venice.
Although we're glad to provide emergency tree removal, tree cutting and chipping service, we would rather help you save your trees by being involved earlier on with pruning, trimming, guy wiring and other proactive tree services.
24 Hour Emergency Tree Service
When you need us most, Florida Tree & Ground Maintenance is ready to solve your emergency tree service needs.
---